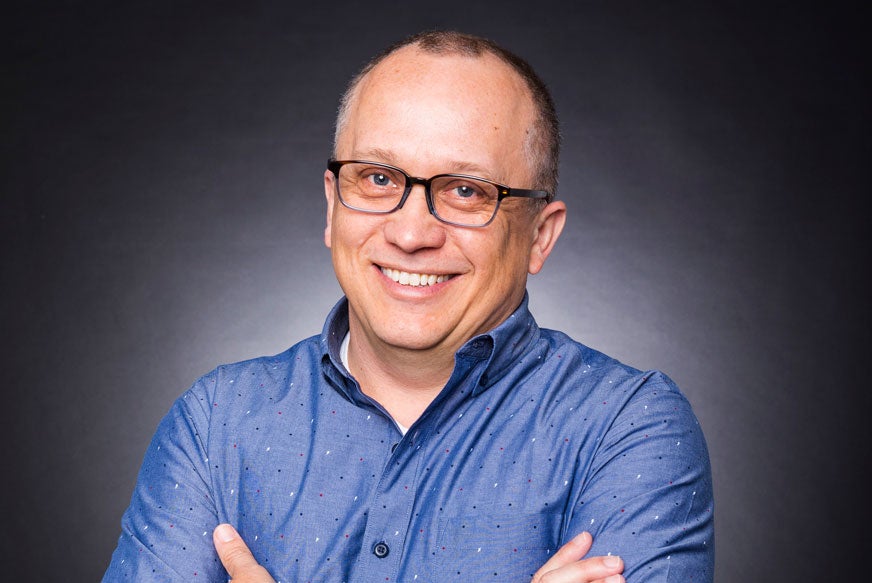 The designer, current VP of IP and Entertainment at Riot Games,
will receive this award during a key year for the company, as it celebrates the 10th Anniversary of its legendary MOBA, League of Legends, and it announces five new titles
Street's creative curriculum, which spans more than two decades, includes his work for Age of Empires (Ensemble Studios) and the MMORPG from Blizzard, World of Warcraft
In 2014 he took over the position of Lead Game Designer for League of Legends and in 2018 he was appointed Head of Creative Development at Riot Games
The ninth edition of the Fun & Serious Game Festival, the largest European festival in the videogame industry, which takes place every December in Bilbao, will present four Honorary Awards, one more than at previous editions. The American designer, Greg Street, who is currently Vice President of IP and Entertainment at Riot Games, will receive one of the awards and, in addition, will deliver one of the most eagerly-awaited VIT Talks on this year's program.
Street, PhD in marine science from the University of Texas at Austin, will receive this award during a key year for the Californian developer, as 2019 is the year in which his famous MOBA, League of Legends, celebrates its Tenth Anniversary as the most important PC game in the world (with 8 million simultaneous players, hundreds of millions of monthly players and spectacular and massive esports competitions – Worlds, MSI, continental league tournaments such as the European LEC, Rift Rivals, European Masters -). Furthermore, this year, the firm founded by Marc Merrill and Brandon Beck has just announced the imminent launch of another five new titles in diverse genres. Riot Games has introduced a new card game, Legends of Runeterra; a mobile and console version of LoL Wild Rift; a tactical 'shooter', currently called 'Project A'; a fighting game ('Project L'); and an early-stage RPG that will allow its players to explore the universe of Runeterra. Furthermore, following the comic series developed in conjunction with Marvel, there will be a new animated series dedicated the League of Legends universe, Arcane. Riot has also announced a documentary, an esports management game and, within the Teamfight Tactics game mode, both a new set ('The Elements Rise') and a mobile version, available in 2020.
Greg Street's curriculum – he earned a PhD in Marine Biology and began his career as a Research Assistant at the University of South Carolina – took a new turn when, in 1998, Ensemble Studios recruited him as a designer for the Age of Empires saga. Without previous experience in the videogame sector, Street has sometimes laughed about his suitability for the position ("I guess I was hired because of my experience as a writer and teacher, my historical background, my personal hygiene, my spelling, my creativity and my talent to capture live alligators"). Ensemble Studios certainly appreciated the new setting projects that he included in his cover letter. In fact, he started as a maps and settings designer for Age of Empires: Rise of Rome. He immediately became a Chief Designer. 
Ten years later, Blizzard recruited him as Head of Systems Design for the famous MMORPG World of Warcraft, at the helm of a team involved in matters such as game mechanics, character design and character skills, items and user interface. 
In January 2014 Greg Street joined the Riot Games design team, initially as Lead Designer for League of Legends, and, since 2018 became Design Director, leading the global design and development team of the iconic Californian developer.
Street's role in the development of the new Riot titles has been crucial, since, currently Street sits on Riot´s leadership team, with a key executive rol, as VP of IP and Enterntainment.
The Fun Serious Game Festival seeks to reward Street's talent and vision, as well as his contribution to the Riot Games portfolio of games. Alfonso Gómez, the Director of the Fun & Serious Festival, has declared: "Awarding Greg Street's work, together with one of the most important titles of this century, League of Legends, means recognizing the importance of this MOBA, one that not only millions of people play across the planet but that has also established the guidelines for electronic sports throughout the world. The esports sector is fully professional and features some spectacular development expectations. Furthermore, this year Riot will surprise us with the launch of various new titles that are likely to bring about a veritable revolution in many genres and, for sure, hours of fun for millions of players around the world."
After nine years of history, the Fun & Serious Game Festival has become one of the leading international festivals within the industry and a hallmark on the cultural agenda of Spain and Europe. Its mission is to elevate videogames to the category of an art form such as cinema and music. According to the latest data from AEVI (May 2019), the gaming industry already generates twice the turnover of film and music combined, reaching historic highs in 2018 (1,530 million euros), with an annual growth-rate of 12.6%.